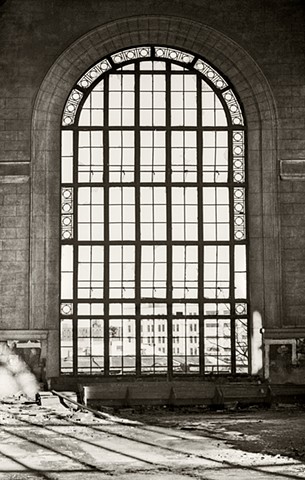 Waiting Room Window, Delaware, Lackawanna, & Western Railroad Terminal
Black & white photograph
Maximum print:14 x 22
1977
Prices:
14 x 22
Print…………….……$50
Matted in 20 x 28......$70
Matted & framed…..$100
7 x 11
Print…………….....…$25
Matted in 11 x 14…...$35
Matted & framed...….$50

The Delaware, Lackawanna, & Western Railroad Terminal stood along the Buffalo River where Main Street intersects South Park Avenue. Designed by New York City architect Kenneth M. Murchison, the terminal was built in 1917 and served the DL&W (also known as just the Lackawanna), Nickel Plate, and Erie Lackawanna railroads. The building containing the waiting room, passenger concourse, and office building was demolished in 1979, but the train sheds have been converted to house Buffalo's light rail trains. At the time this photograph was taken early in 1977, much of the waiting room had been stripped, but the majestic window overlooking the city remained.