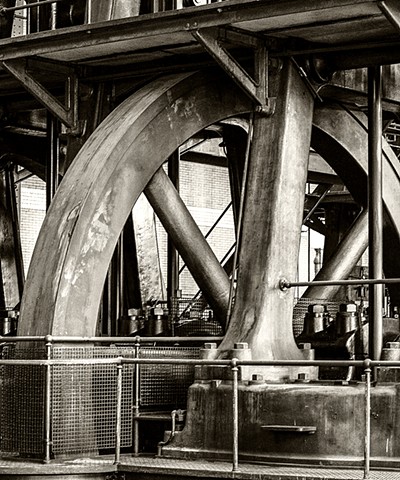 Steam Water Pump, Colonel Ward Pumping Station, Buffalo, NY
Black & white photograph
Maximum print: 15 x 18
2015
Prices:
15 x 18
Print……………...…$40
Matted in 20 x 24.....$60
Matted & framed…..$90
7 x 8.4
Print…………….....…$25
Matted in 11 x 14…...$35
Matted & framed...….$50
The Colonel Francis G. Ward pumping station was completed in 1916 to bring Lake Erie water from an off-shore intake to the city via giant steam-driven pumps, one of which is shown in the photograph. At the time of its completion, it was the largest municipal pumping plant in the United States. The steam pumps are still in place, although not used, as water is now pumped by much smaller electric pumps in the building, as well as the newer Massachusetts Avenue Pumping Station.